End-to-End TV Everywhere delivery system  
Thanks to years of the development of the Antik Media Streamer, you will benefit from modules covering all the areas of live streaming, VOD, state-of-art catch-up TV (archive of linear TV) over the public Internet as well as the timezone shifting together with durable and fully-adjustable replication and mirroring modules combined with a stream protection. 
TRY FREE!
Get the Antik Media Streamer trial now! Test all functionalities free of charge. Our support team is at your service.
Try now
Thank you! Now you will recieved e-mail with attached install documents .

Live Streaming

Powerful scalable HTTP Live Streaming Solution for global live content delivery. Ideal for low-speed and unstable access network conditions and OTT distribution thanks to state-of-art segment streaming feature.
Allows unicast streaming using HLS protocol
Allows to stream up to 2Gbps of traffic per individual server (based on your server hw e.g. when using 1mbps stream system can serve up to 1000 users simultaneously, increase of streaming capacity is possible.)
Allows to pre-buffer the content into client device memory
Fast-zapping support- using burst data transfer which can pre-fill buffer rapidly to decrease zapping time
Full recovery of the stream in case of network drop-out (up to 30s) – non-visible for the viewer
Includes segmenter which push segments into RAM to increase system performance
Allows to setup length and number of segments stored in playlist of the server
Monitoring interface visualises:

total data inflow into modul
input stream bitrates (coming from ingest module)
count and length of segment in playlist
playlist status
segmenter process uptimedestination IPs input stream bitrates (coming from ingest module) replicator uptime
Catch-Up TV Modul (TV Archive)



records all content of the specific stream and allows access to it using EPG information
includes segmenter which creates 10s files- directly enables to use HLS protocol for content delivery
High availability – even curently played program can be accessed (less than 2 minutes from original playback time)
Uses HLS protocol for streaming, so all the features described in Live Streaming can be utilized
allows to define time braks in broadcasting to save space during black screen period
Large scale archiving (depends on storage capacity)
Intelligent erasing mode – identify oldest records and deletes them to free-up diskspace for new recordings
Integrity analyser detects content drop-outs and enables them to other CDN components

Uses HLS protocol for streaming, so all the features described in Live Streaming can be utilized
Monitoring interface visualises:

Catch-up segmenter process status and uptime
Input stream bitrate
disk storage usage
number of days archived in the individual stream
unused content still available in storage
record integrity within actual day
detailed fine-grain integrity information for each recording day- includes timeline to visualise archived content and drop-outs
count and length of segment in playlist
actual total bitrate
estimated remaining archiving time according to actual bitrate
Archive Snapshots Module
Creates snapshots for each video segment which was recorded by Catch-up TV module
Allows comfortable end-user seeking in archived TV content
Recorded pictures can be easily used for other Streamer modules
Different snapshots profiles- profile name, picture size, resize method (LetterBox, Pan&Scan, Fill-in), background color (for LetterBox resize method), picture format
(gif, bmp, jpeg), picture quality, jpeg compression quality, brighten effect
Monitoring interface visualises:

profile list
snapshoter process status and uptime
last processed segment for each channel
snapshot browser – to visualise all snapshots recorded


Archive Mirroring Module
Archive mirroring from other CDN server – to overcome content distribution problems on large distances or variable quality networks when continuous live stream is unavailable
It can be effectively used to achieve high scalability using mirroring together with Load Balancer Module
Monitoring interface visualises:

mirroring process status uptime
source server IPs
time of last successful synchronization
unused content still available in storage
disk space usage
mirroring progress bar
Video-On-Demand
This is an End-2-End system for a movie content preparation (encoding), storage, balancing the load, streaming and protection. Our robust segment streaming and buffering SW enables you to deliver content even in a lower quality Internet networks. The replication SW enables you to hold the VOD data load under control around-the-clock and ensure a non-stop operation even in the unlucky situation of partial server hosting drop-out.
The VOD is the easiest way of watching movies online. The user is able to watch a movie just  by a few clicks on his/her remote control. This video content will start immediately, the user doesn't need to wait on the full movie download as it is instantly streamed to the end-devices.
 Searching by the title, year, actor, genre, news and others
Rate the movies or choose the movie with the highest rating amongst your network
Filter by date, name, rating
Virtual keyboard controlled by remote control or IPTV Multimedia keyboard
Read movie description and watch movie trailer
In more detailed view of movie description are also displaying similar movies
Billing system connector

GUI & Management
It is a web based Middleware, which secures the management of the VOD content and presnts the user interface for an access to the VOD from the client's device (set-top box). It's able to scale the application on a large numbers of devices. It contains the billing connector module, which enables a secure invoicing for the seen content. It also cooperates with the Load Balancer to enable an immediate playing of  avideo content straight after a movie has been purchased meanwhile, it reserves the VoD storage capacity.
Streamer & Storage
It is a module of the Antik Media Streamer which secures placement of the video content and provides it to the client's devices. The content must be prepared in form of a media package, which is an output of the VOD Encoder product. The VOD streamer provides the content through the HLS protocol, which enables a fluent and stable streaming also in slower networks. Thanks to the buffering it is capable of overcoming a short network downtimes without having the client side noticing it. Thanks to a real time streaming, it's not necessary to wait for the download of the whole movie to the client's device. The storage cooperates with the Load Balancer, and thus allows a scaling of the content into multiple servers while increasing the capacity and the load balancing. At the same time, the Load balancer is authenticating client and allowin an access to a secured content. As this module is an application of the Antik Media Streamer, there are all the monitoring functions and tools of this application available.
Recommended configuration:
Quad Core Xeon
6GB RAM
RAID: Hardware RAID5 adapter, 512MB, battery backup
HDD: 8x SAS min. 300GB 10K-15K
Ethernet: 2x 1Gbit/s
VOD Encoder

This device encodes the VoD content into the HLS format, so that it can be stored on the CDN servers. It also supports an automated transcoding thanks to a transcoding queue. It offers many supported video formats like .avi, .mp4, .mpg, .and, DVD ISO images and lots ofothers. The VoD Envoder is easily controlled through the web interface which allows upload of big files into the queue. The Multi user support allows the sharing of the transcoding service. Multiple audio tracks are also supported as well as the DVB subtitles used in the DVD discs.

Features:
Multiuser queued transcoding
Transcodes into HLS format
Video formats support: .avi, .mp4, .mpg, .and, DVD ISO images and many other
Web interface control
Support of multiple audio tracks
Support of DVD subtitles
The system is based on a standard open source operating system Linux, which minimalizes deployment costs. Additionally, this product can be easily installed on a dedicated server in any hosting data center. The product contains an advanced remote management and monitoring applications.
Recommended configuration:
Core i7 processor
2 GB RAM
500 GB HDD
Operating System Ubuntu Server 12.04 64bit
Encoding process:
Login in to web based application
Upload movie(s) using integrated JAVA applet
Enter basic information about movie and define bitrate
Enqueue movie for encoding
Wait until movie is being encoded
Download final movie package
Transport encoded package on VOD storage server (product Streamer)
Requirements:
Client side JAVA browser support (for large files upload)
Example of movie encoding
Video format (avi, mp4…) -> encode -> HLS (customized for VOD)
Encoding duration: from 2 to 5 hours (depending on the movie length and HW server configuration)
Time-Zone Shifting Modul

Shifts the playback time of live stream
Modul is targetted to be used in case of streaming to global time zone different than the timezone of content origin
More shiftited streams from one source - Allows multiple time off-sets of the same content (TV channel) using the same data to save storage
Support long playback time off-sets (storage size is the only limit)
Uses HLS protocol for streaming, so all the features described in Live Streaming can be utilized
Monitoring interface:

zone-shifter process status and uptime
input stream bitrate
availibity of each shifted playlist
unused content still available in storage
storage usage
count and length of segment in playlist
 Antik TV Stream Cache
The global TV streams delivery is now even more stable and reliable with the Antik StreamCache System. It secures a good quality linear, timeshifted or archive TV distribution around the world at reasonable costs even to areas with expensive backbone connections.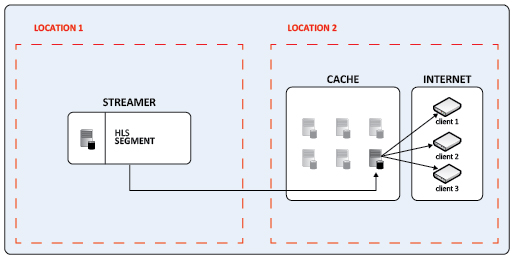 Automatically routes stream request to the appropriate cache server based on

servers utilisation
rules
routing tables

Cache servers ingests only streams which are used by at least one end-user device which leads to significant bandwidth savings on channels entered into streamer nearest cache server selection based on IP address group rules (e.g. geography, provider IP block)
Alternative cache server prioritization based on routing tables enables to create robust redundant content delivery networks
Multiplatform – STBs, mobiles, tablets, PCs as end devices
Load Balancer
The managing CDN server cluster, checking in periodical intervals and their status, and forwarding clients to each server depending on required service. In case of a failure of a CDN server, the Load Balancer will redirect end customers to a working CDN server. It allows an uthentication of the end customer devices and manages the access to the content and services. It contains statistical functions for the analysis utilization rate and the recording data about the watched content for the billing purposes and for the audience measurement. It also contains the monitoring interface for the CDN server cluster surveillance.
Regularly checking status of CDN servers
Active failover protection in case of HW failure
Advanced login features allowing connectivity with billing system
Managing CDN server cluster
Client authentication and authorization with advanced per session generated passwords
MPEG4 SD/HD AVC to MPEG4 SP/ASP
CIF, or QCIF 2x to 12x depending on format conversion