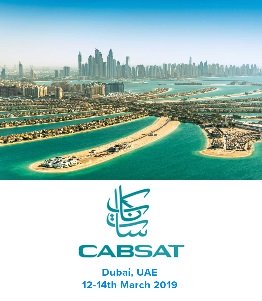 CABSAT 2019
Antik team is looking forward to meet you all at The Cabsat 2019 in Dubai. Come to our stand and let us introduce you our End-to-End IPTV Solution and other products such as New middleware MW 2.0, Hospitality IPTV with new Content Management System MAxIM, Mobile Apps, Digital Signage Solution and more.

We also prepared for you our brand new solution through which you could grant your customers an enjoyable journey with our new ANTIK Infotainment system. It will keep your passengers informed and entertained at the same time. They could watch a movie, order a coffee or look up where is the next rest station directly from their seats.

In its 25th edition and yet in many ways, compeltely new. CABSAT 2018 newly evolved format has been sedigned to gater some of the best creative midns, technology innovators and media leaders on a single, global stage to lead the future of storytelling. Right from the "eureka" point of content creation to the moment of production, sharing and consumption.

The entire content, satellite, broadcast, digital media and entertainment ecosystem will be hoste under 3 key sectors - Content Creation, Content Production & Post-Production and Content Distribution & Delivery. While international leadres will set the agenda for your industr´y future through a series of programmes, workshops and live hubs. CABSAT 2019 is the place to be to power your growth in the digital economy.
Back